Celebrate National Handwriting Day on January 23 by spreading kindness!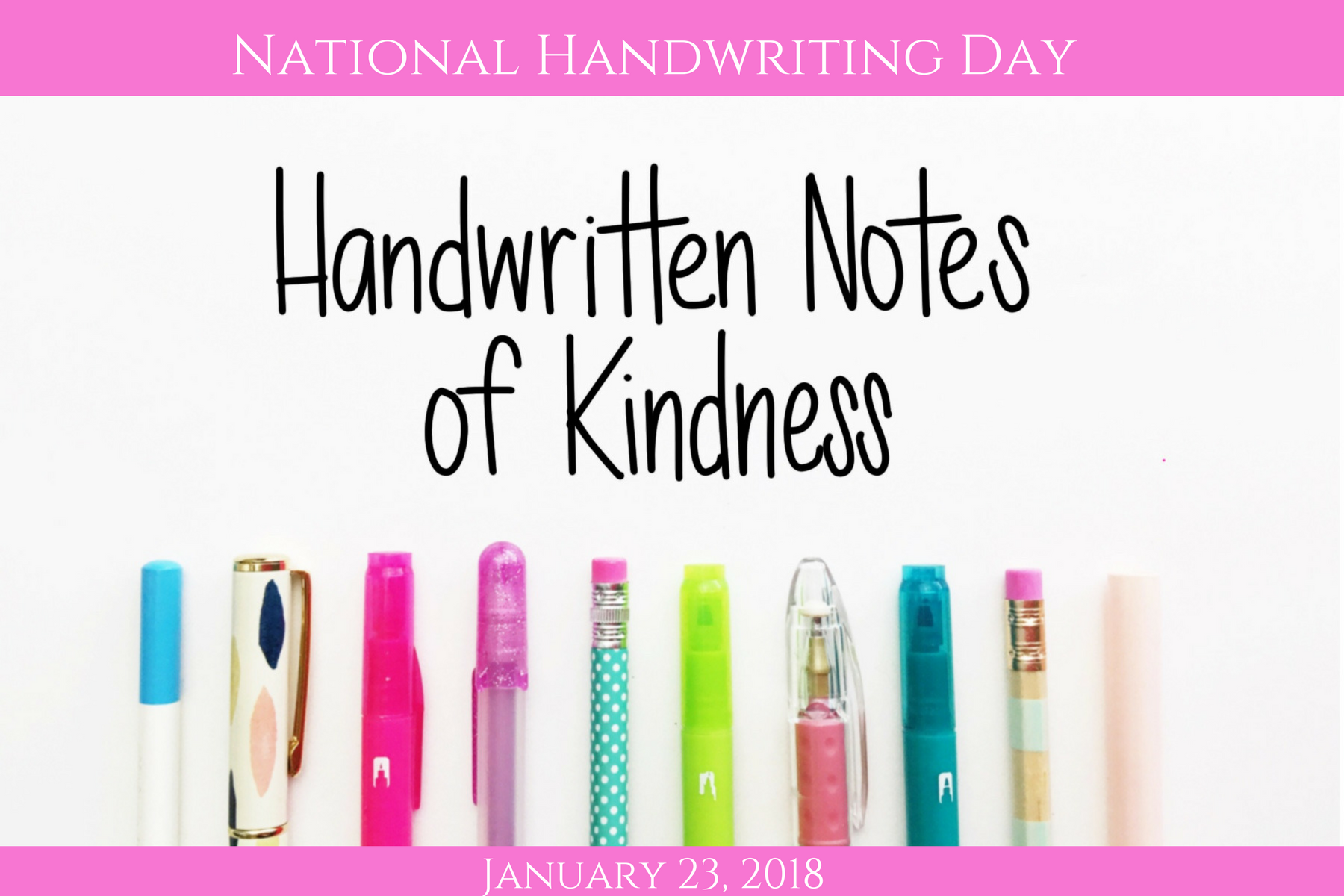 Join me in sending out notes of handwritten kindness this National Handwriting Day! Let's place kindness notes out in public- Target, the grocery store, library, the gym, Starbucks, etc- for people to find. A note of kindness will make someone's day! So, get out your pencils, pens, markers and paper (and your kids!) and let's spread some joy.
What is National Handwriting Day? Created in 1977 by The Writing Instrument Manufacturers Association, it acknowledges the history and influence of penmanship. Even in today's digital world, handwriting is still important and serves a purpose in our lives.
So here's how it works:
Since this is Handwriting Day, your notes must be handwritten! Feel free to use any pens, markers, pencils, etc. you'd like- and in any color! My favorite markers right now are the Tombow TwinTone Markers. They are so perfect for this project! Grab some paper- construction paper, printer paper, even a patterned paper pad or sticky notes will do. I've designed some pretty cards you can use too! Print them out and write on them. So easy.
print them here:
Kids can even get involved! What a great way to combine handwriting practice and teaching kindness.
Now it's time to write! You'll want to include phrases or quotes that inspire. Words that make a person feel good about themselves. Don't focus so much on making the lettering pretty- this isn't a hand lettering challenge. Just use your regular handwriting- even if it sucks! You don't even have to include any doodles or drawings. Or even a lot of color for that matter. Just a sticky note with black pen will do just fine. It's all about spreading joy and kindness with something will have- a pen and paper. Make sure to include the hashtag #handwrittennotesofkindness written on your note so people can look it up.
Here are some of my favorites:
– You are enough – You are capable of amazing things – Have a great day! – You are beautiful –
No one is and that is your power – You totally got this –
After you create your notes, take them out in the world and spread the joy! Tape them up in aisles, on restroom mirrors, on tables, in library books- wherever people will come across them. I promise it will make someone smile!
After you've placed the notes, snap a photo and share it on social media with the hashtag #handwrittennotesofkindness so we can all follow along!
I hope that we can spread joy and kindness with something as simple as a pen and paper. I look forward to seeing all your awesome notes and photos!
Sign up for my email newsletter for all the updates!
HOORAY FOR MAIL!
Get hand lettered goodies delivered directly to your inbox!
Happy National Handwriting Day!